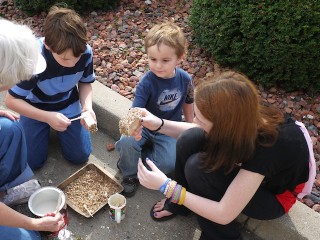 *MORE FOR 2014*
Expanded activities at CreekFront Park
Children's Games — Saturday, Oct. 4
sponsored by First Baptist Church Hodgenville
10 a.m. to 2 p.m.
Scavenger Hunt —ALL WEEKEND
CreekFront & Around Lincoln Square
Saturday, 9 a.m – 4 p.m.
Sunday, Noon – 4 p.m.
Abraham Lincoln Birthplace NHP will offer children's games and activities at CreekFront Park in conjunction with our annual Scavenger Hunt. Visit their booth on CreekFront Park to pick up a copy of the Scavenger Hunt and to receive your participation certificate when completed.
Youth Activities —ALL WEEKEND
The Boy Scouts climbing wall is returning, along with the bouncy house, face painting, and an assortment of activities for kids of all ages.