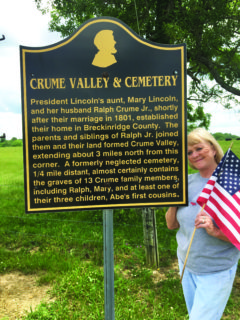 Jo-Ann Myers is the fourth great-granddaughter of Mary Ada Lincoln Crume.
Mary Lincoln Crume was the third child of Captain Abraham and Bathsheba Lincoln and sister to Thomas Lincoln, father of the future president.
Although President Lincoln made few references to his relatives, he knew "Aunt Mary" well and wrote of her in a letter to his cousin Susana Weathers, thanking her for a pair of socks.
Researching Mary Lincoln Crume has been a labor of love for Jo-Ann whose presentation features several posters, significant documents, and related materials.