Saturday, October 7
Enjoy a variety of demonstrations and displays of heritage skills during your time at the festival.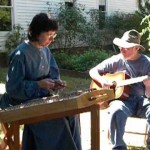 MUSICAL DEMONSTRATIONS
Steve and Janet Kistler of Munfordville will be performing on hammer dulcimer and guitar on Saturday of Lincoln Days. In addition to making music, they enjoy birding, hiking, playing music and gardening.
BROOM-MAKING DEMONSTRATIONS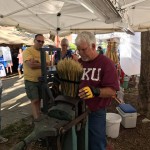 Briar Patch Brooms & Baubles will be demonstrating the longtime Appalachian tradition of broom-making. Bill and Gina Velky craft handmade brooms and whisks in the Appalachian and Shaker styles. They also make beaded and wire-wrapped jewelry, and handwoven items such as scarves and shawls. All crafts are made by the artists in their home in Cave City.
FABRIC ARTS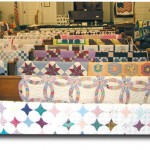 The Quilt Show in the Hodgenville Christian Church showcases traditional as well as contemporary sewing techniques. Members of the LaRue County Quilt Club will share tips for creating and preserving a time-honored tradition. Quilt Show Coordinator Beverly Heath will bring a loom and visitors will be able to see the handiwork of new quilters and crocheters – as well as pieces created by pioneers, professionals, and seasoned artisans.
CHAIR CANING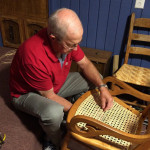 Robert Hutchins will be demonstrating chair caning at Lincoln Days.  Hutchins has been caning chairs for more than forty years. He demonstrated at Lincoln Days years ago and he said he was happy to be asked back. Self-taught, Hutchins started caning when his wife inherited a child's rocking chair with no seat. Hutchins has finished chairs for people in other counties—even other states. Weaving one strand of rattan at a time, he said caning the average chair takes from 8-10 hours.
HERITAGE SKILLS
A wide variety of traditional arts and crafts will be on display throughout the weekend. Visit the Lincoln Days Information Booth for times and locations of a range of heritage skills that will be demonstrated.