Saturday, October 5 at 2 p.m. EDT
— Along Lincoln Boulevard, Town Square —
Parade applications are due by 5 p.m., Thursday October 3.
The 2019 Parade Theme is "Homegrown Heroes."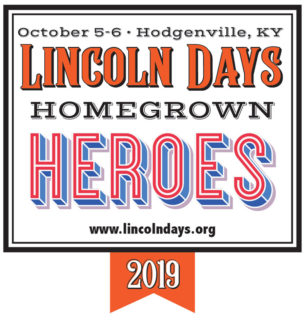 The parade commences promptly at 2:00 P.M. on the Saturday of the festival and neither 2.5 inches of rain or the bite of freezing temperatures (when the festival was a February happening) has been able to cancel the event.
When one hears the sound of the cannon on North Lincoln Boulevard and until you see the sheriff's escort (caboose), one's eyes and ears are treated to a first class parade. Marching bands, Lincoln presenters (too many to count), floats, beauty queens, elected officials, antique cars and tractors. There is more, walking units, grand marshal, class reunions, horses, fire engines.
The parade sometimes has its surprises. It could be a C-130 fly over (always keep an eye on the sky). One may see a general, governor or congressman or someone who wants to be. The biggest surprise is the number of spectators who view the parade. They make all the hard work worth while. Think about it. Who does not like a parade?
The Lincoln Day Parade will begin at 2pm sharp on Saturday, October 5 and is a big hit with young and old alike. Below you will find general rules, a release form and application.
No Distribution from the Parade Route of Any Kind
Nothing is to be thrown from parade units, including candy.
Identity of participants must be recognizable. Hoods and masks are prohibited unless a special exemption is given by the parade chairman.
Any questions or judgments should be directed to the parade chairman and the chairman's ruling shall be final. The chairman shall have the authority to make any changes or exceptions to these rules at any time he believes such changes or exceptions will promote safety or better facilitate the conduct of a successful parade.
FAILURE TO FOLLOW THE PARADE RULES CAN RESULT IN IMMEDIATE EXPULSION FROM THE PARADE.
Want to ride and/or participate in the parade?
Download Parade Rules and Application