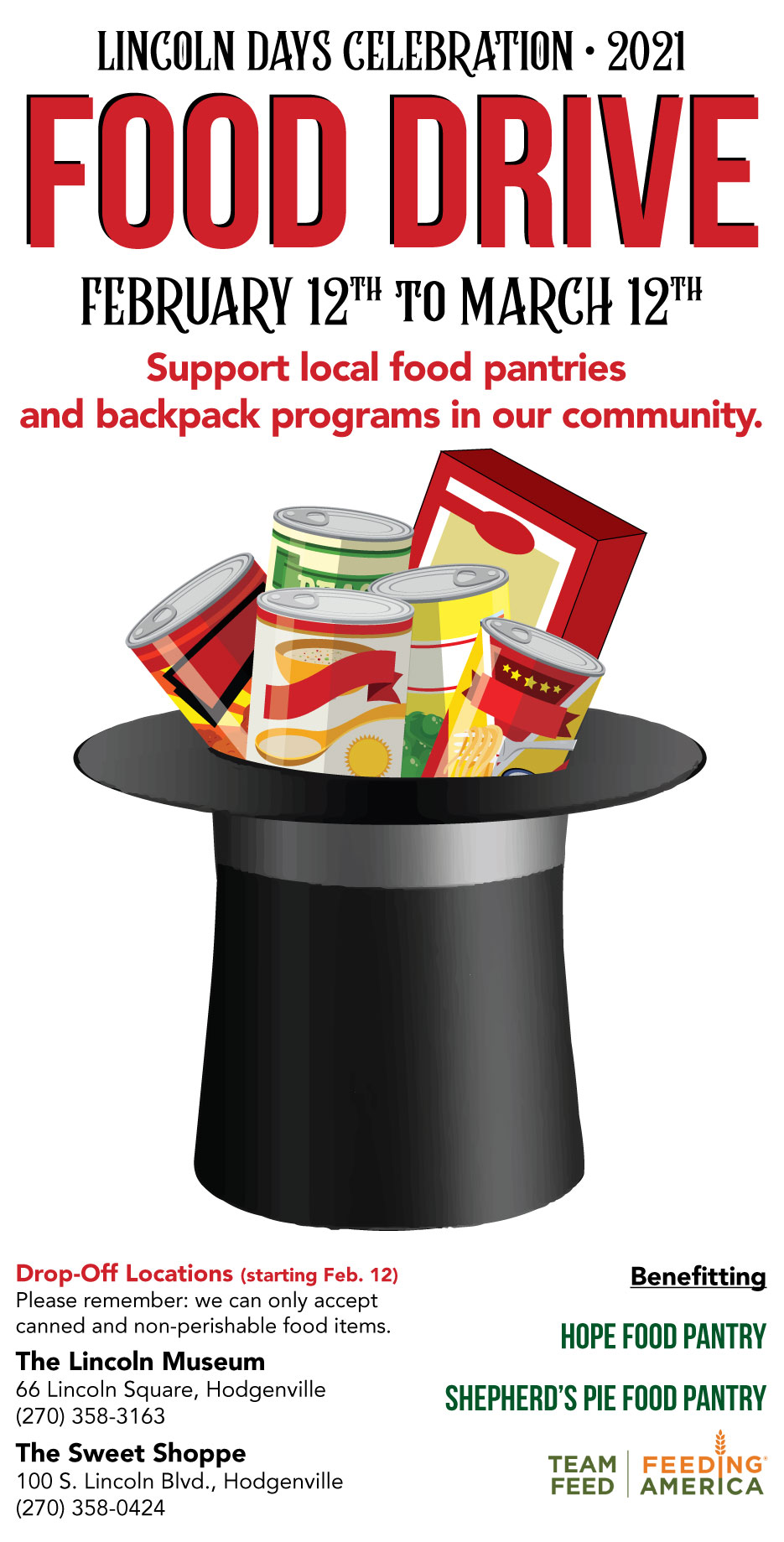 Lincoln Days Celebration Food Drive
February 12-March 12, 2021
In recognition of Abraham Lincoln's 212th birthday, the Lincoln Days Celebration board of directors is hosting a food drive to support LaRue Countians who are facing hunger.
Since 1972, Lincoln Days has hosted a luncheon honoring the birth of our 16th president. Realizing that the COVID-19 pandemic would limit the ability to safely host this year's lunch event, the board decided to forgo the traditional luncheon and focus on feeding others in the community.
LaRue County has two food pantries: Hope Food Pantry organized by the United Methodist Church in Hodgenville and Shepherd's Pie Food Pantry organized by Cumberland Presbyterian Church in Magnolia. Additionally, the Feeding America's BackPack Program at LaRue County Schools provides school-aged children suffering from food insecurity with 12-15 food items to take home each Friday afternoon during the school year.
Donations of canned and non-perishable foods will start on Friday, February 12, 2021 continue through Friday, March 12, 2021. Online donations will also be accepted at https://feedingamericaky.org/ where donors can select LaRue County as the recipient of donations raised during this food drive.
Suggested items for donation include the following canned and non-perishable food items:
Canned soups
Canned fish
Canned fruit
Peanut butter
Cake mixes
Please be sure to check expiration dates and use by dates on items donated to ensure their safe usage.
Drop-Off Locations (starting Feb. 12)
The Lincoln Museum
66 Lincoln Square, Hodgenville
(270) 358-3163 – Open Mon-Sat, 9 am to 4 pm and Sunday Noon to 4 pm
The Sweet Shoppe
100 S. Lincoln Blvd., Hodgenville
Phone: (270) 358-0424 – Open Mon-Sat, 10 am to 6 pm